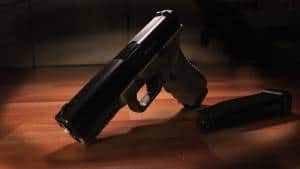 This course introduces the student to techniques applicable to defensive use of the handgun. Emphasis is put on shooting skill development for application in real-life circumstances.
During the course our goal is to provide students with the tools and mindset necessary to properly defend one's self and their loved ones. Whether you are a beginner or a seasoned veteran, you will get something out of this class. Along with top quality instruction, you will have the opportunity to practice drills in a safe and friendly atmosphere that you aren't able to do at most public ranges. We gear our drills towards not only making you more comfortable with firing and manipulating your firearm, but towards preparing you for a defensive encounter.
Other course topics include situational awareness, equipment selection, safety, handling, loading, unloading, malfunction clearance, drawing and firing techniques, single handed firing, multiple targets, movement, and tactics.
During the rest of the live fire portion we go over single-handed firing, shooting from behind cover, shooting from kneeling and prone positions, close contact drills, and multi-target acquisition drills.
Required gear:
-Eye Protection
-Ear Protection (electronic recommended and preferred)
-A safe working, reliable pistol chambered in 9mm to 45 ACP
-A minimum of 3 working magazines (5 magazines are recommended)
-Magazine holder, belt or vest mount
-A suitable and safe pistol holster
-300 rounds of factory ammunition, a speed loader for mag loading is nice to have
-A suitable pistol belt
-Clothing adequate for weather and allows for movement (pants preferred)
-Sunscreen
-Hat with visor
-Kneepads (if you have issues kneeling on the ground)
If you own or have access to a tactical rig or gear, feel free to bring it and use it! We encourage our students to try out their gear in a training environment.
Bring lunch in a cooler of some kind and bring plenty of non-alcoholic drinks or a hydration system.
Course Length is approximately 6 hours
This is not an NRA approved course.
This is a Phase 3 Training, Inc. exclusive proprietary course designed by Phase 3 Training, Inc.