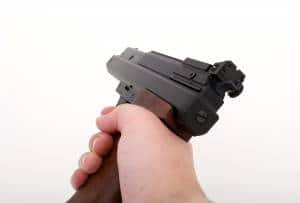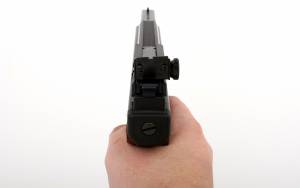 Pistol 2 is our intermediate level handgun course. Prior to taking this class, each student is required to complete the Pistol 1 class. Because of this, we are able to keep this class light on lecture and place the emphasis of the class on live fire drills, resulting in more overall time spent shooting. Our main focus on this class is movement, using cover, and clearing malfunctions on the move. It is a very active and fast paced course that is designed to significantly increase each shooter's ability and confidence, using real life scenario based training. We begin with a brief recap of Pistol 1 as well as a quick live fire accuracy analysis to ensure students are still at a safe and competent level of practice. We then move straight into our live fire drills. The next segments of drills involve firing under stress and with an accelerated heart rate from standing, kneeling and prone positions. We then continue by going into movement drills including movement from cover to cover, side movement, forward and reverse movement, diamond formation, getting off line, Mozambique, disabled and/or injured shooter exercises, and various others, all while incorporating different reloads and malfunction clearing. Another aspect we cover is close quarters contact drills since many use of force encounters happen within a few feet. We finish the course with drills designed to include everything that students have learned and covered during the course to include firing while moving at multiple targets then reloading from cover to engage more targets. This class will put you into more realistic drills that might be representative of self-defense situations you may actually find yourself in.
Required gear:
-Eye Protection
-Ear Protection (electronic recommended and preferred)
-A safe working, reliable pistol chambered in 9mm to 45 ACP
-A minimum of 3 working magazines (5 magazines are recommended)
-Magazine holder, belt or vest mount
-A suitable and safe pistol holster
-450 rounds of factory ammunition, a speed loader for magazine loading is highly recommended
-A suitable pistol belt
-Clothing adequate for weather and allows for movement (pants preferred)
-Sunscreen
-Hat with visor
-Kneepads (if you have issues kneeling on the ground or want to protect your knees)
If you own or have access to a tactical rig or gear, feel free to bring it and use it! We encourage our students to try out their gear in a training environment.
Bring lunch in a cooler of some kind and bring plenty of non-alcoholic drinks or a hydration system.
Pre-requisites: Students must have previously completed the Pistol 1 course and possess a thorough understanding of the Pistol and most importantly, all Safety Rules and must be able to continuously demonstrate proper muzzle awareness and safe gun handling skills at all times. Proof of a prior successful Pistol 1 course (or other schools equivalent course) completion required.
If you have any medical/health issues, please consult your doctor/physician before attending this course.
Course Length is approximately 6 hours
This is not an NRA approved course.
This is a Phase 3 Training, Inc. exclusive proprietary course designed by Phase 3 Training, Inc.